Mystery Temple Escape
Overall rating:
Your rating:
Login to rate
Help the turkey escape it's doom on this first thanksgiving holiday. S…
Escape from this pre-school play room by collecting objects and solvin…
Collapsed Theatre escape is point and click escape game where task is …
Remake Version is the first episode of ICHO Japanese point and click t…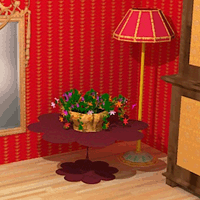 All these red walls are way too intense. Escape this place before you …
Here we come up with a new thrilled escape game. A family went for a t…
Description
Mystery Temple Escape is another point and click room escape game by gamekb.com.You're locked in a mystery temple room and must find some useful objects to help you resove puzzles to escape. Your friend, an archeaologist, got an old map accidently. He invited you to explore it with him. When you entered the stone room, you go separated. It looked like a temple of an ancient prophet. The door was closed. Now the only way escaping out is to use any object you can find and uncover the mystery.

Date added: 2013-06-28
Instructions
Mouse click somewhere to find hidden useful items and drag the items to interact.
Tags
None
Add a comment:
Log-in to add a comment